Discover Secrets for Responding to Westwood Commercial Water Damage
12/14/2018 (Permalink)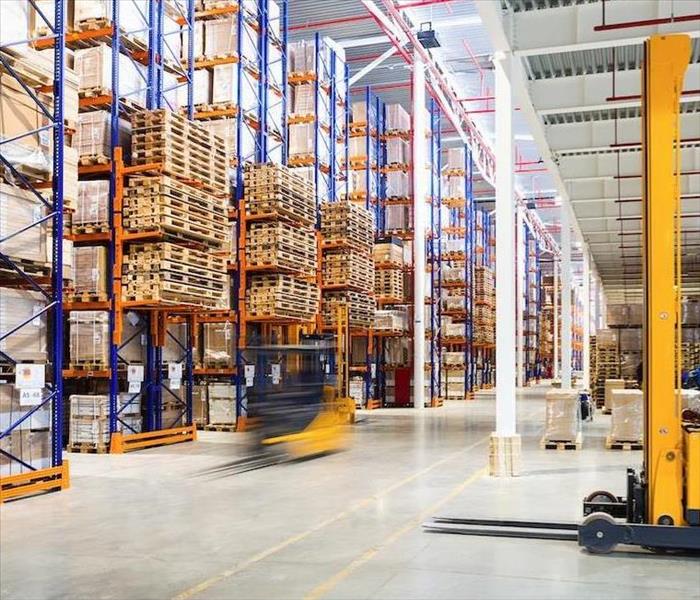 If water damage affects your factory or warehouse, lots of valuable inventory could be lost. Contact SERVPRO right away for water removal.
Providing Water Extraction for Warehouses Throughout Westwood
When water strikes your Westwood area warehouse, you need to respond with an equal amount of urgency. Water left standing long enough can permanently destroy inventory, machinery, and office equipment, right along with the floors, walls, and structural components of your building.

You need access to a company that specializes in water extraction in Westwood and can respond to large loss situations developing throughout the area. Someone who can provide you with the personnel, equipment, and resources needed to address multiple situations affecting different members of our local community all at once.

SERVPRO technicians have experience addressing large loss situations that affect warehouses and storage facilities throughout the area. Whether you are dealing with water damage as the result of a fire or are recovering from a flood, our team is ready and willing to help. We have an entire team of trained professionals available to respond to your water extraction needs 24-hours a day, 7-days a week. No situation is too small or too large; we are trained to provide you with full-service solutions regardless of your circumstances.

SERVPRO puts air movers, dehumidifiers, portable heaters, and water extraction equipment of all shapes and sizes to work fast. We work to draw moisture from the surrounding environment and make every effort to prevent damages to finished products or expensive equipment, including the structure of your building itself. Our services make controlling corrosion, rot, and mold after a flood easier than ever before.

SERVPRO team members work with your business representative throughout the extraction process, providing you with any pertinent information. We help you determine whether specific items remain salvageable and communicate with your insurance adjuster every step of the way. Our team wants to extract water and dry your warehouse as soon as possible, making your facility available to customers within hours or days, instead of weeks or months.

Make a call to SERVPRO of Beverly Hills / Westwood today for water extraction, cleanup, and restoration services that help get your warehouse water problems under control fast. (310) 390-7540

Click here for more about Westwood.