How Hydroxyl Generators Deodorize Your Westwood Home After Flood Damage From A Clogged Drain
3/11/2019 (Permalink)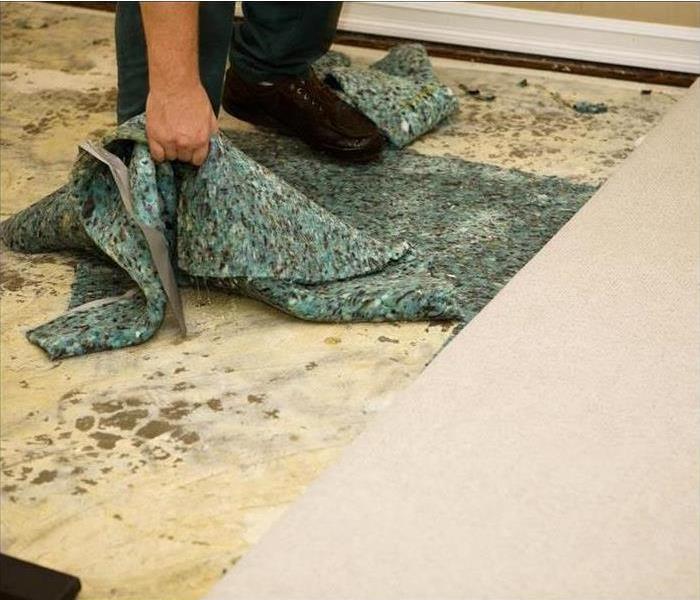 Our SERVPRO IICRC-certified staff comes equipped with professional water extraction pumps and tools to assist during your time of need.
Do You Know How Hydroxyl Generators Deodorize Your Home?
A clogged drain can quickly cause a significant amount of flood damage. Indoor drains might be clogged up by grease or by flushing non-flushable items down the toilet. Outdoor drains can become clogged with gunk and leaves or compromised by tree roots growing into them.
Whatever the cause, there is no doubt that a clogged drain has the potential to cause flood damage to your Westwood home.SERVPRO is on hand to help any householder following a blocked drain – We're Faster To Any Size Disaster.
Our SERVPRO IICRC-certified staff comes equipped with professional water extraction pumps and tools, along with air movers and dehumidifiers to assist with drying out your home after a leaking drain. However, there is one final step that is vital to restoring your home, and that is odor control.
Flooding from a clogged drain might leave your home smelling musty and unpleasant. Naturally, you want to get rid of smells as quickly as possible so your house can be fresh once more. There is also the consideration that you do not want to move out of your house during this process. That is why SERVPRO does not use ozone generators in situations where moving out of your home is not an option – ozone generators are effective for odor control, but they are not safe for people, pets or plants to be around.
Thankfully we have another powerful tool at our disposal – hydroxyl generators.
To understand how hydroxyl generators work we need to understand hydroxyl. When light interacts with water in the air, it creates byproducts known as reactive oxygen species. Hydroxyl is a reactive oxygen species, and it is very unstable which means that as soon as it is formed, it binds with other molecules in the air and breaks them down. In fact, it is a bit like a natural detergent!
Hydroxyl Generators generate UV light and usually a metal surface to produce hydroxyl, which then interacts with the odor molecules in your home, breaks them down, and deodorizes the air by doing so.
Because the generators are safe for use around people, pets, and plants, our experts can set them up and leave them running while you go about your daily business, so there is minimum disruption to you.
Locally Owned Company with National Resources
Do not let unpleasant water odors spoil your enjoyment of your home. Call SERVPRO of Beverly Hills / Westwood at (310) 390-7540 for help.
For more information regarding the city of Beverly Hills, click here: http://www.beverlyhills.org