Does Mold Damage in Century City Homes Need to Be Fully or Partially Contained?
2/27/2017 (Permalink)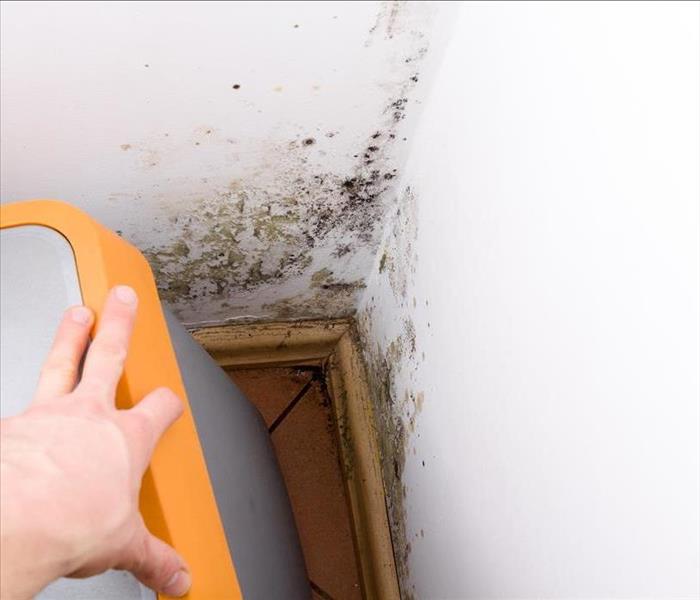 Movement dislodges spores and makes it easier for them to travel to unaffected parts of the property.
Does a Mold Infestation Need to Partially or Fully Contained in a Home?
When dealing with extensive mold, it is common for restoration teams to work within the perimeter of a specialist containment zone. It is an area which is set up to isolate affected materials and prevent mold from spreading around the home. Residents are not allowed within this zone until repairs are complete.
Movement dislodges spores and makes it easier for them to travel to unaffected parts of the property. The SERVPRO team prevents this from happening by making sure that mold damage in Century City properties is always carefully controlled. They wear PPE suits, disinfect before exiting, and use negative air machines to keep compromised air inside.
Keep reading to find out why full and partial containment are different and which option is likely to be used in your home.
Partial Containment
If the mold damaged area is between 10-100 square feet, the containment zone is usually limited. In very large rooms, this often means that the space gets divided across the middle. The technicians delineate the treatment zone, by stapling polyethylene sheets to the floor and ceiling. Alternatively, if this does not provide enough stability, they erect temporary frames for hanging the sheeting.
All doors, risers, chases, and supply and air vents inside the containment zone are sealed. It minimizes the risk of mold contamination for the rest of the building. SERVPRO uses HEPA filtered fan units to maintain negative pressure and ensure that compromised air stays under strict control. Any object that requires removal gets disinfected first.
Full Containment
Full control is appropriate in areas that are larger than 100 square feet. Total containment comes recommended for all properties where there is a considerable risk of accelerated spread. Double layers of polyethylene create a barrier between the moldy area and unaffected parts of the building. Normally, an airlock chamber is set up.
It is the most intensive form of containment, so anything which exits the zone must be thoroughly cleaned or bagged up first. Many of your possessions may need to be sealed in airtight containers and removed to a safe place for further restoration. The aim of containment is to ensure that contaminated items never come into contact with undamaged materials.
Locally Owned Company with National Resources
At SERVPRO of Beverly Hills/Westwood, we tailor the restoration to the situation. So, your mold remediation plan is unique to your home. Mold is a tricky problem, but with the right procedures, it can be safely disposed of or neutralized. Call us 24/7 on (310) 390-7540.